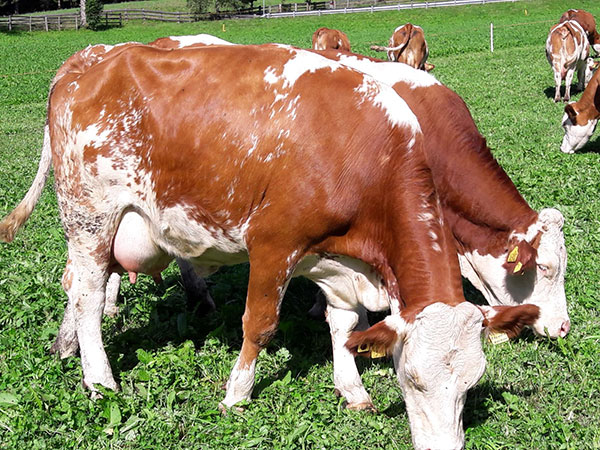 The farm 'Oberhof' keeps 12 milk cows, 7 young cattle, 2-3 calves, 4-5 pigs and hens.
Our 12 milk cows exclusively feed on our own well-ventilated hay. As opposed to silage fodder, hay of such high quality positively affects both milk quality and longevity of our cows. In a newly constructed free-stall barn our animals live in a species-appropriate environment that ensures good health conditions.

Thanks to the innovative design of our barn, the milk is directly pumped into our production room next door. We stock the cheese in our cheese cellar for the maturation process, whereas all fresh products are stocked in the refrigerating hold. We use the whey as fodder for our pigs to fatten them gradually over the course of up to one year. Only their slow fattening will guarantee for tender meat and high quality bacon ("Speck"). This is how we create a nature-oriented cycle from the fodder to the end-product.

Our farm brings up its own cattle. The young cattle stay outdoor for 4-5 months every year: they spend about 3 months in Alpine pasture and another 2-3 months on pasture land in the valley. On average they calve for their first time at the age of 2.5 years. Then the young cattle start their career as a milk cow.

Our cows enjoy access to outdoor space for 10 months a year where they can also take a cold shower on hot summer days. The barn has a fully automated scratch brush. From September to November our milk cows stay on pasture land all day long. The cheese that we produce during that period is especially tasty and smooth.


History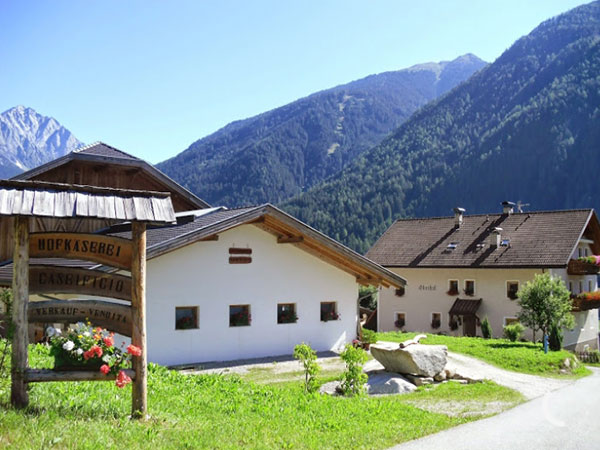 The farm was first mentioned in a written document in 1472. The certificate for the first time defined the rights and obligations of the owner: the "Hofer" (the brothers Mathias and Christof) were given permission to autonomously pass the farm on under the condition that they would deliver rye and money to the monastery of Au/Gries (near Bozen-Bolzano) every year at Christmas.

In 1878 Maria Magdalena Hellweger, the heiress of the farm, married Johann Franz Arnold; ever since the farm has been associated with the name "Arnold". In 1993 the current owner Paul Arnold inherited the farm. Together with his wife, they built a new barn with integrated dairy facilities in 2006. On August 15, 2009 the cheese shop Hofkäserei Oberhof finally opened its doors.